By Move Dance on 13th Mar 2020
Been told to get yourself a pair of character shoes and have no idea where to start? Look no further! This post is your handy guide for everything you need to know when it comes to buying your first pair of character shoes.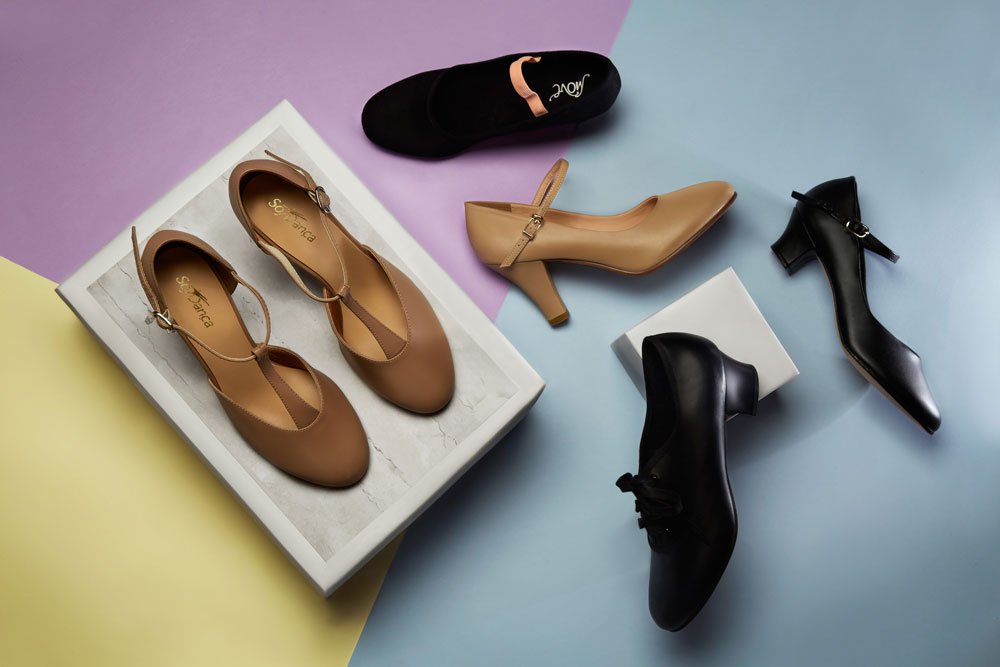 What are Character Shoes?
Character shoes are often required for ballet exams. When you're younger, character shoes are more ballet-based and you have to wear character shoes for the second part of your ballet exam. Older dancers tend to wear character shoes as stage shoes. Often known as New Yorkers, character shoes are often worn by people who do musical theatre. If you go to watch a show in the West End you'll notice that the majority of the performers will be wearing character shoes.
We sell character dance shoes from a variety of brands including Bloch, Capezio, So Danca and our own-brand, Move Dance. Our website offers a range of styles, colours and heel heights, from supportive t-strap character shoes to stylish cross strap character shoes. Our huge variety ensures finding your perfect pair will be a straight-forward and enjoyable experience!
What are Character Shoes Used For?
Character shoes are worn for a variety of different performances, this includes the second part of your ballet exam, stage performances, auditions and competitions. We sell RAD Ballet Character Shoes too, so if you need the exact pair for your exams you've come to the right place! It's important that you have a pair of character shoes that are comfortable to wear and that you feel confident in. You can choose from a range of heel heights to ensure you feel stable enough to perform in.
How Should Character Shoes Fit?
Your character shoes should have a snug fit but not too tight, a comfortable fit. Your toes should be flat and near the end of the shoe. As you wear your shoes they will mould to your feet and ankles. For this reason, you should ensure both your feet and ankles are supported as you dance. It's also important that you find a pair of character shoes with the ideal heel height, if you choose a pair of high heel character shoes that are too tall for you this could have a negative impact on both your feet and the quality of your dancing.
The most popular colour of character shoes among dancers is black. This is because in your ballet exams for the character section the uniform would consist of black character shoes.
Usually, if dancers buy a second pair of character shoes they will buy a pair of tan character shoes. Tan character shoes are very popular among musical theatre performers onstage.
Character shoes come in a variety of different heel heights, here at Move Dance we sell character shoes from 1" to 3" high.
1" character shoes are mostly for beginners and younger dancers. They are the most comfortable character shoes and the lower heel allows for more stability as you perform. Low heel character shoes are also required for young dancer's ballet exams. As you get more comfortable on the lower heel you will gain more confidence so you can progress onto a higher heel.
Character shoes with a higher heel elongate your legs, flattering your calf muscles. It also looks better on stage to wear a higher heel. As you advance and dance more professionally, it's only natural that you progress onto higher heels.
Shop High Heel Character Shoes