By Move Dance on 14th Dec 2018
When shopping for your new dance leotard, it's important to know exactly what fit you're looking for. Our website is helpful with size guides, but we want to give you some tips to help you know what best fits your body. Do you also dread the words "measure your waist" with absolutely no visual reference to help you?! Check out our how to measure for children's dance leotards and adults' dance leotards to help you!
How to Measure for a Dance Leotard
Take a tape measure and note down your sizings for: your bust, waist, hips, inside leg and total height (from the bottom of your feet to the tip of your head).
How to Measure my Bust
Wrap the tape measure around the fullest part of your breasts/a child's chest and round your back to get a complete circle.
How to Measure my Waist
Get your waist circumference by measuring midway between the base of your ribs and the top of your hip bone. We always keep in mind that most waist positioning will be approx. an inch above your belly button. You're looking to measure the smallest part of your torso around your stomach to get your waist measurement.
How to Measure my Inside Leg
Measure from the lowest point on your feet (where they're touching the floor) up to the highest point of your groin whilst staying between the thighs.
How to Measure my Hips
Measure the your hips by wrapping the tape below your hip bone to the widest part of your hips and taking a full circle measurement.
How to Measure my Total Height
Grab a friend! Measure with your feet flat on the floor right up to the top of your head.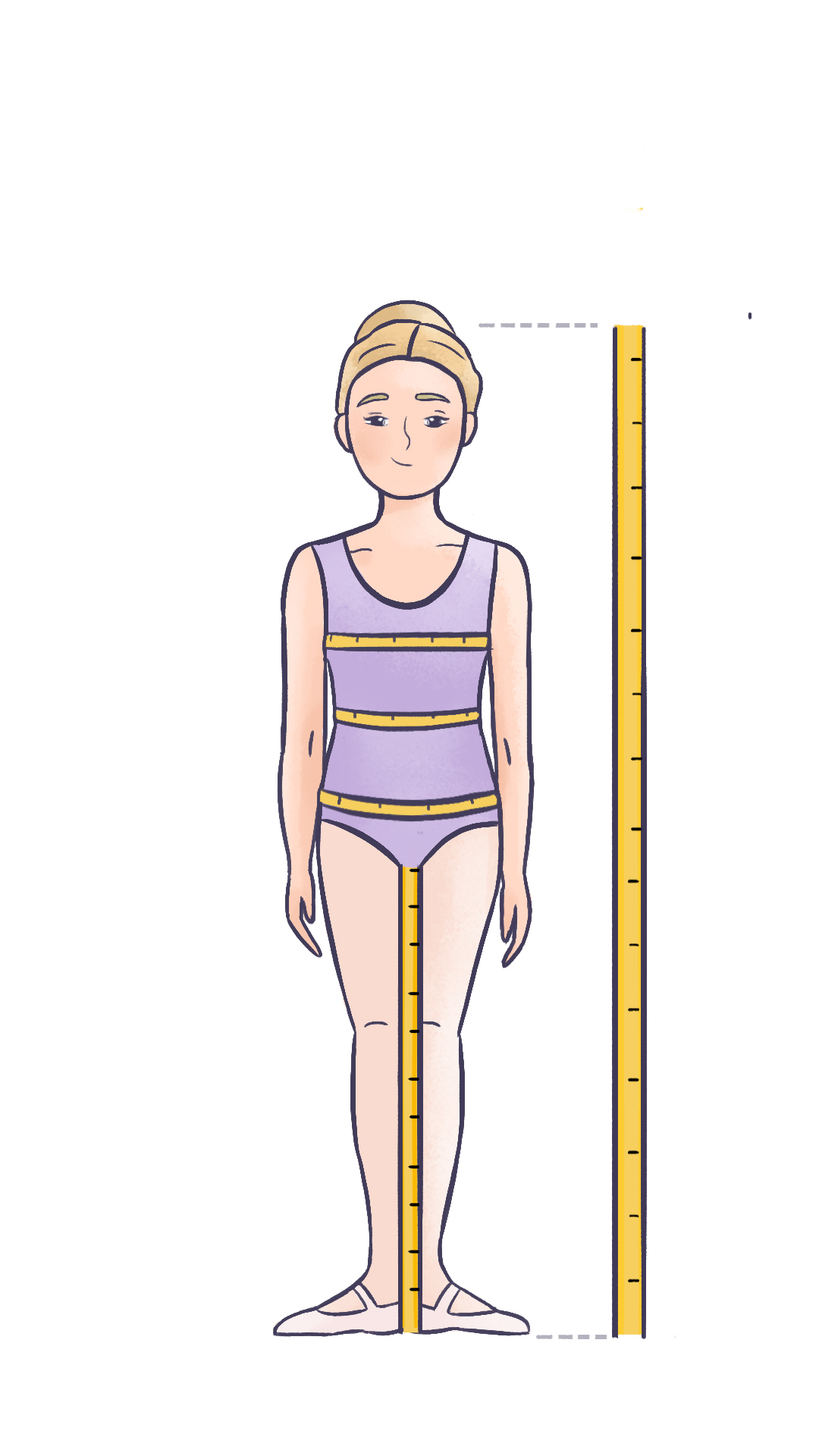 How Should my Leotard fit?
Your dance leotard should fit snugly yet comfortably. Upstretch your arms when you try your leotard on for the first time to test your range of motion. If the leotard pulls too much around the gusset area and causes discomfort, it's most likely the wrong size for you. Pay close attention to the armholes of the leotard; do they dig in or restrict your ability to move freely? No matter the style of leotard you choose, all of our leotards are designed specifically for dance, which means that even the most elaborate back design will not hinder your movement.
What size leotard should I buy?
You should buy a leotard in your normal dress size or your usual size when shopping with us. Note that there will be some slight size fluctuation between brands. For example, you may be a size S in a leotard by one brand, but a size XS in a leotard by another.
Put our tips into practice now and find your best fit.