By Move Dance on 13th Feb 2018
What are Mardi Gras and Carnival?
You've definitely heard of Carnival in Rio de Janeiro, but did you know that the Carnival tradition stems back centuries and was originally celebrated because of religious beliefs? We'll explain to you what Mardi Gras is, how it's like Pancake Day, and what the difference between them and Carnival is....
What is Mardi Gras?
Mardi Gras is French for "Fat Tuesday", what we in the UK call Shrove Tuesday (Pancake Day). The Mardi Gras period begins after the Epiphany and is popularly celebrated in America, and in particular New Orleans.
Pancake Day and Mardi Gras are days of indulgence, and traditionally involve the using up of rich ingredients like eggs and fat… not like our modern day dash to the shop because you forgot to buy flour! The King Cake is the pastry of choice for New Orleans and is decorated in the characteristic bright gold, green and purple Mardi Gras colours. The tradition of the King Cake means that whoever gets the slice with the baby ornament in has the responsibility of buying the King Cake for next year. In case you're wondering why a reference to a "King" has just popped up, it's because Mardi Gras celebrations in New Orleans are heralded by the Rex Krewe who choose one person each year to take on the persona of the fictitious King.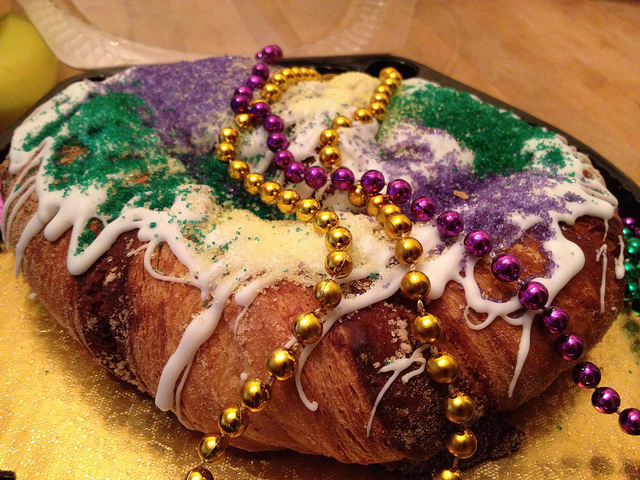 Photo by Phil Denton with an Attribution-ShareAlike 2.0 Generic (CC BY-SA 2.0) license on Flickr Creative Commons
The roots of all these celebrations, whether they be called Mardi Gras, Carnival, or Shrove Tuesday, stem from Christian traditions of absolution from sin before Lent through confession. So, pancake day is celebrated differently around the world - if at all - but Carnival and other celebrations have got nothing on the Olney pancake race! History records that a woman in 1445 heard the call to confession on Shrove Tuesday and dashed to the Church with her frying pan in hand still cooking her pancake. Pancake revellers now compete in a street race and must toss their pancakes three times before finishing! Take that Brazil…!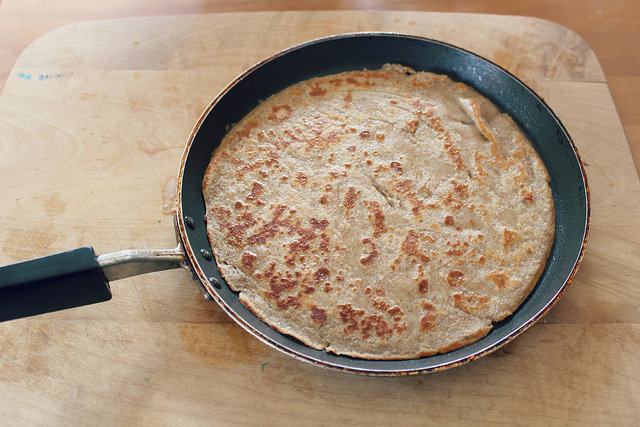 Photo by Heather with an Attribution 2.0 Generic (CC BY 2.0) license on Flickr Creative Commons
What do the Mardi Gras colours mean?
The regal Mardi Gras colours of gold, purple and green were historically chosen by King Rex - the king of the Carnival - back in the 17th Century. We typically recognise purple as symbolising justice, green as faith, and gold as power. When a historian was researching Mardi Gras, he actually uncovered evidence to suggest that Rex chose three colours because the USA and UK flags were tri-colour. The colour choices made of purple and green were selected out of only a few suitable coat of arms colours. Gold was selected as the metal component, which of course symbolises power because of its extravagance and cost.
What is Carnival?
Carnivals occur around the world in the pre-Lent period, like the Trinidad and Tobago Carnival, but you've probably heard of the biggest and world famous Carnival in Rio de janeiro, Brazil. It's an inclusive festival that encourages observers to get involved with bodypaint and elaborate costumes. The biggest and most bold costumes are worn by the parade dancers, who wear brightly coloured feather headresses and beaded costumes. Samba dancing fills the streets inspiring revellers to feel excited and free. Costumes and masks are a must-have to celebrate Carnival, because a great sense of social unity is created in everyone coming together and ridding of their everyday identities. This year's festival began on 9th Feb and end on Ash Wednesday 14th Feb when Lent commences.
Be sure to check out our Pinterest board full of Carnival and Mardi Gras costume ideas for the last day of the celebrations by clicking here!
Note: Feature image by Rob Schofield, licensed by Flickr Creative Commons as Attribution-NoDerivs 2.0 Generic (CC BY-ND 2.0)