By Move Dance on 4th Dec 2018
We think it's clear to see how this beautiful leotard by us, Move Dance, has won the top spot for Leotard of the Month December. It's one of our most unique designs with a teardrop shaped open back, contrast trims and high neck. We haven't met a dancer yet that doesn't love our Nava and know you're going to love it too!
What Colours Does Move Dance Nava Leotard Come in?
Move Dance Nava is the perfect choice for a dancer with a varied dance background whose looking for something versatile. You can get Move Nava in soft fabric in purple, navy, black or grey.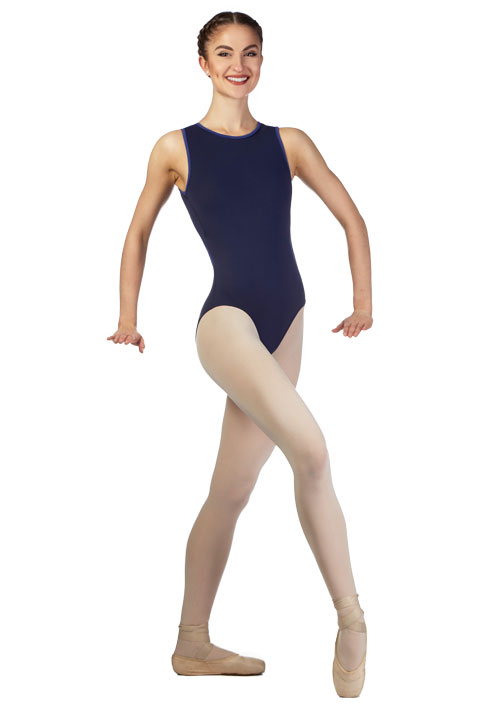 Every dancer needs a black leotard, but that doesn't mean it has to be boring! Choosing the black version of Nava is a savvy choice for a dance student with a full day of different dance classes, from jazz to ballet. Nava has recently been updated to include a couple more of our dancers' favourite colours - like charcoal and navy - so it's appropriate for ballet class but still has a little fashionable flair.
What are the Features of Move Dance Nava Leotard?
We've designed this leotard to be just as beautiful as the dancer who wears it, which is why a gorgeous feminine teardrop shaped open back is the highlight of this look to show off your dance physique. Flat press-studs on the back of the leotard give you the best of all with a high neck, open back and secure fit. Our in-house designer Clare has added a thoughtful yet stylish touch of a wrap-over feature at the base of each side of the open back. This it to ensure a gorgeous cut of the leotard on your body as you dance without it gaping and ruining your streamlined silhouette. Have you noticed the little pop of colour we give Nava on the trim? The contrast colour trim elevates this leotard from basic to fashionable whilst still being perfectly suited to a pro ballet class.
Did you know...
Move Dance Nara is our teen version of Leotard of the Month December and comes in the same contouring fit with the open back design. Teens will have to wait until they grow a little to try Nava out in charcoal and navy!
Don't forget to be part of the buzz of this month's most popular leotard by getting your very own Move Dance Nava!